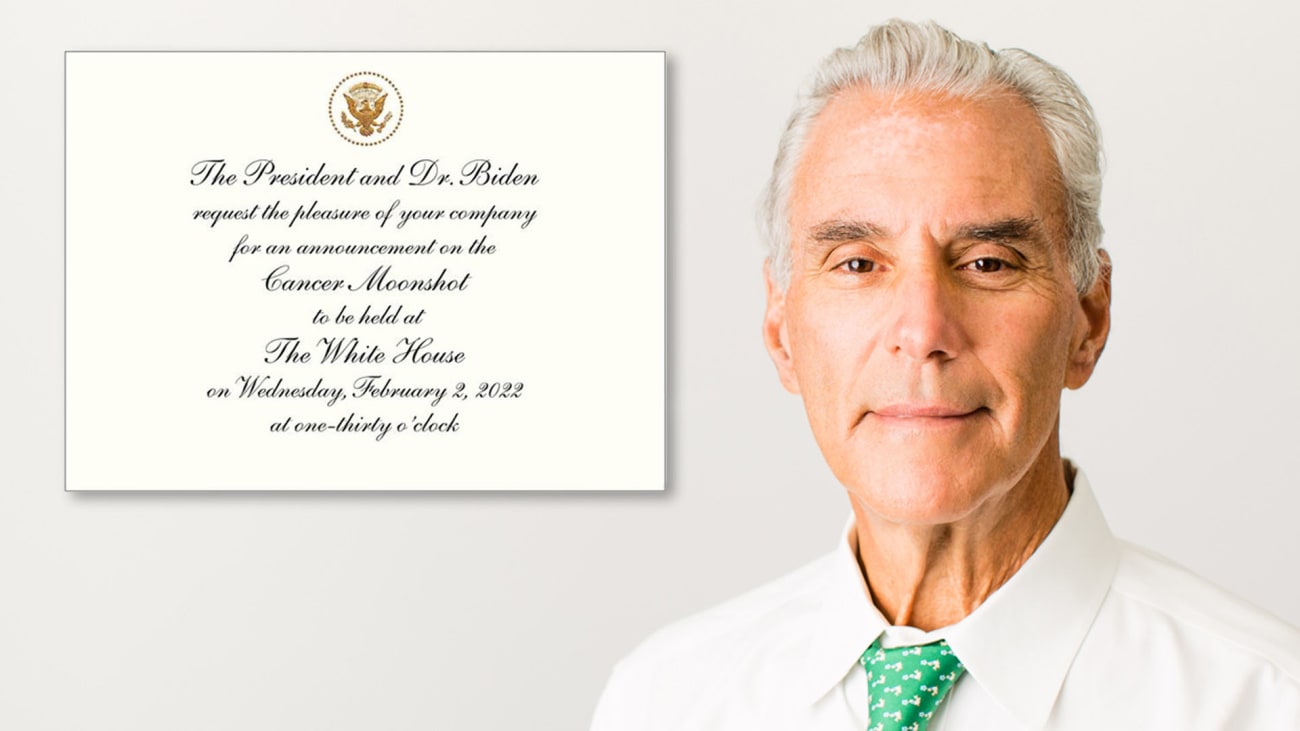 On Feb. 2, 2022, Mitchel Berger, MD, neurosurgeon and director of the UCSF Brain Tumor Center, attended the relaunch of the White House's Cancer Moonshot initiative at the invitation of President Joe Biden and Dr. Jill Biden. Berger was appointed to the original initiative's Blue Ribbon Panel of scientific experts, cancer leaders and patient advocates in 2016. In this interview, he discusses how precision medicine and other breakthroughs in brain tumor treatment at UCSF contribute to the Cancer Moonshot's goal of ending cancer as we know it.
Q: What is the promise of precision medicine for treating brain tumors?
A: Personalized cancer medicine, or precision medicine, is a very exciting area in all of oncology. This fits nicely with our new UCSF Bakar Precision Cancer Medicine Building. In precision medicine, we take an individual's tumor and sequence, in depth, all the mutations in the genome, as well as in the epigenetic space of that cancer. That defines genomic mutations as well as aberrations in DNA methylation for these tumors, which reflect epigenetic modulation.
The UCSF 500 Cancer Gene Panel is a homegrown panel that we now use for all patients with brain tumors. This gives us tremendous insight into the genetic alterations that are present in a patient's tumor. It may be that a patient has a common genetic alteration that has been seen in many patients with gliomas, but the panel also defines very peculiar mutations that now have targeted therapies from industry and biotech that we can use to add additional firepower to the therapeutic regimen.
Q: Can you describe how these novel precision strategies are applied? 
A: Our standard of care therapy is three-dimensional conformal radiation therapy along with six months of Temodar, a chemotherapeutic agent. But we know that the standard of care is not effective in the vast majority of patients with gliomas. When a patient develops a recurrence, the next strategy is tumor resection, followed by extensive sequencing using the UCSF 500 Cancer Gene Panel as well as whole exome sequencing. We then conduct DNA methylation profiling and look at epigenetic modifications in the tumor, which can either silence tumor suppressor genes or enhance oncogenes to do their function.
Through precision care, we're able to chart a course of therapy for that specific patient. This results in the ability to target multiple abnormal pathways in the genome, as well as in the epigenome, to try to get the cancer to become quiescent again. Precision cancer therapy, based on sequencing information and the use of targeted agents that specifically go after sequence-identified alterations, is certainly going to be a major part of the Cancer Moonshot as we go forward.
Q: What are some recent advances in glioblastoma treatment?
A: The immune system in patients with glioblastoma is deficient because the tumor outsmarts the immune system and makes cytokines that can suppress the immune environment. In the neuro-oncology space, we have a number of therapies evolving to reverse immunosuppression and enhance immune stimulation. It's a two-pronged approach. We can block immunosuppressive pathways with very targeted therapies, such as immune checkpoint inhibitors. And one of the ways to enhance immune stimulation is through viral oncolytic therapy. For example, tumor cells have poliovirus receptors on them, so we can use a modified nonpathogenic poliovirus as a Trojan horse to deliver compounds into the tumor cell. Also, the poliovirus itself can attack the tumor and cause tumor cell destruction, which releases antigens and stimulates the immune system. We're currently involved in a poliovirus immunotherapy clinical trial.
Q: Can you describe the next-generation "prime-and-kill" CAR T-cell therapy developed by UCSF researchers?
A: At UCSF, we have developed a strategy whereby we can prime CAR T cells in such a way that they're more active against tumor cells, while we use a strategy to block the response of these primed T cells peripherally so that they don't cause systemic toxicity and they target just the brain tumor. This is a new strategy that Hideho Okada developed and has published on. We are now developing the first GMP-grade vector for humans, so we can use this new "prime-and-kill" CAR T-cell strategy for high-grade gliomas. It'll be the first of its kind in the country.
Q: What are some emerging techniques for improving drug delivery?
A: Another goal of ours is to enhance the delivery of drugs to the central nervous system by getting them through the blood-brain barrier. We have a new program along with Matthew Francis, chair of the department of chemistry at the University of California, Berkeley, whose area of expertise is nanoparticle technology. He has developed nanoprotein particles called micelles that can package drugs and move them across tumor membranes in a way that standard intravenous therapy cannot. The testing, which has gone from petri dish to animals, looks extremely encouraging. Drug delivery is going to be a very important part of our portfolio.
In addition, to enhance drug delivery further, we're using a brand-new strategy called high-intensity focused ultrasound, or HIFU. We are installing the HIFU system here at UCSF, and by modifying the intensity of the ultrasound waves that are administered, we can open the membrane of the arteries and get drugs to go through the blood-brain barrier. After four to six hours, the membranes tighten up again. With the smart nanoparticles and HIFU, we're in a really good position to enhance drug delivery.
###
Neurology and neurosurgery research and treatment take place within the UCSF Weill Institute for Neurosciences. Cancer research and treatment take place within the UCSF Helen Diller Family Comprehensive Cancer Center.
UCSF Medical Center is No. 1 in the nation for neurology and neurosurgery and best in Northern California for cancer care, according to U.S. News & World Report's 2021-2022 Best Hospitals survey.

To learn more
Phone: (415) 353-2966 | Fax: (415) 353-2167