UCSF epileptologists and neurosurgeons successfully treated a patient's medication-resistant epilepsy in a region of the brain that is integral to speech and typically avoided by surgeons due to the risk of speech impairment. After the surgery, the patient's speech production and perception were fully intact, and she remains seizure-free.
"This case was a technical tour de force," said Vikram Rao, MD, PhD, UCSF neurologist and epilepsy specialist. "This is as good as it gets."
The extraordinary success was made possible through research on the neural mechanisms of speech by Edward Chang, MD, UCSF neurosurgeon and chair of the Department of Neurological Surgery, and an advanced phase 2 surgical evaluation by the UCSF Epilepsy Center team.
Mapping the patient's seizure focus and speech network
A 30-year-old right-handed woman presented with severe medically refractory focal epilepsy. She experienced daily focal impaired awareness seizures and biweekly convulsions despite her use of numerous antiseizure medications. She also had a continuous, mild, receptive aphasia that worsened after seizures.
The patient's seizure semiology and imaging findings were consistent with an epileptic focus in the left Heschl's gyrus, a brain region containing the primary auditory cortex. The UCSF Epilepsy Center team performed a left hemisphere grid and stereo-EEG implantation to localize the seizure focus and map the patient's speech network extensively. Intrasylvian stereo-EEG recordings confirmed the hypothesized seizure onset zone in in the left Heschl's gyrus.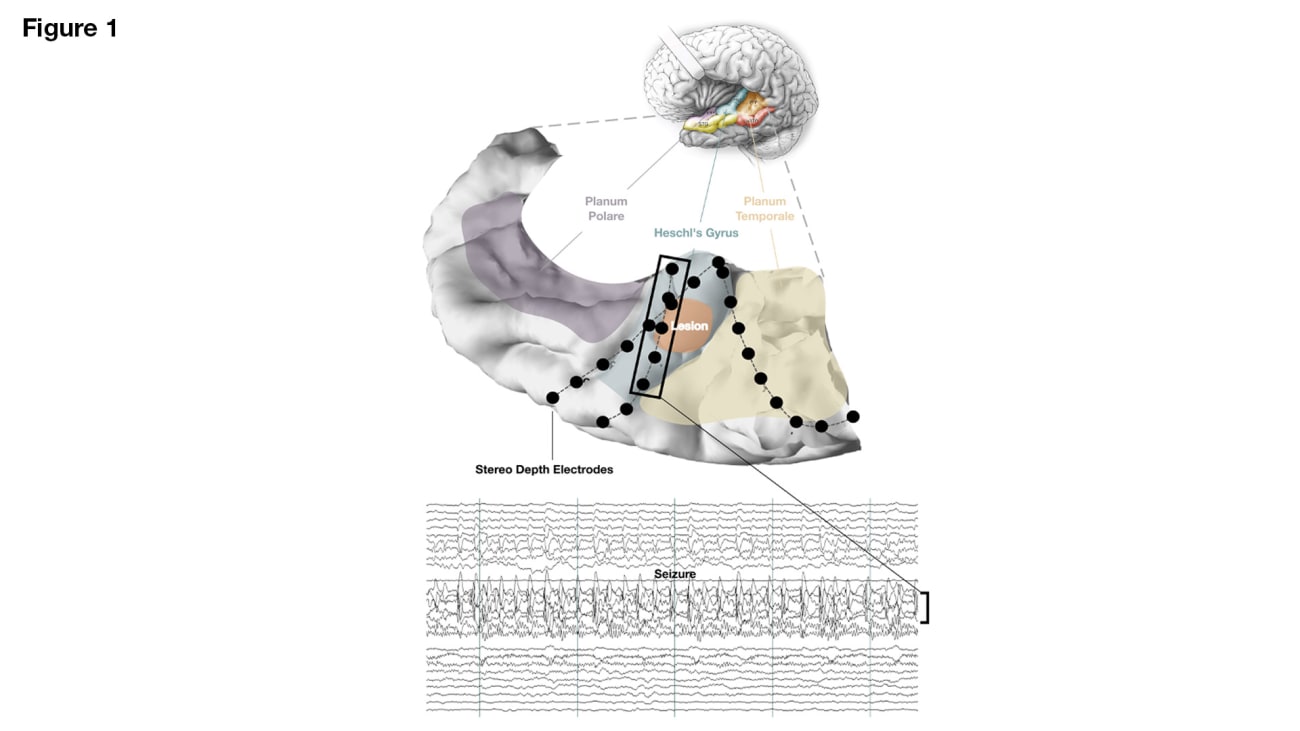 Superior temporal plane reconstruction of the suspected seizure focus with stereo-EEG depth electrodes. A segment of a single seizure is shown with ictal activity confined to left Heschl's gyrus. Lateral temporal and frontoparietal grids are not shown but were implanted for comprehensive language mapping and seizure localization.
In the classic speech network model, the primary auditory cortex along Heschl's gyrus is the main source of auditory input to the human speech processing area in the posterior superior temporal gyrus (pSTG), also called Wernicke's area. Because of this, Heschl's gyrus resection in the dominant hemisphere is often avoided and, when performed, typically only involves partial resection. However, research from Chang's lab has added new insight into the classical speech network model and shows that there are other inputs to the pSTG besides Heschl's gyrus, thus increasing the possibility of Heschl's gyrus resection without speech impairment (Figure 2, right, red and blue arrows; Cell. 184, 4626–4693, 2021).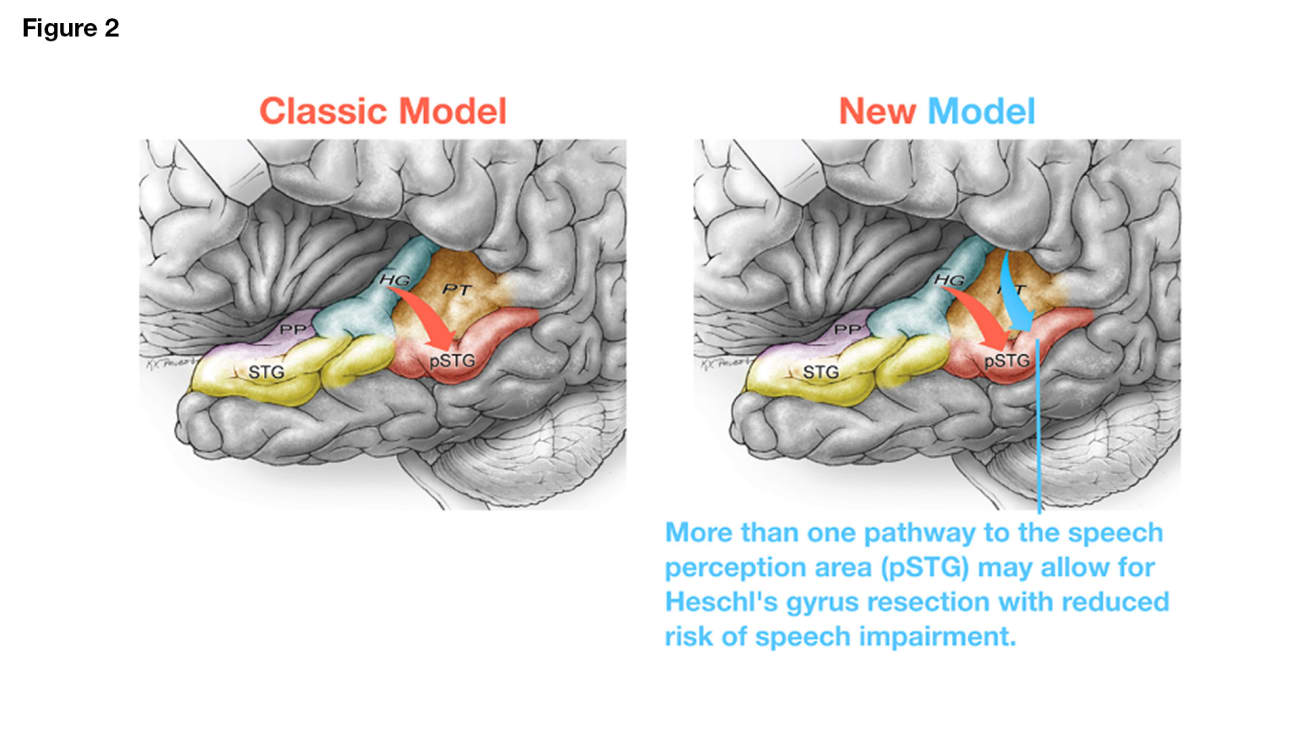 Physiologic measurements taken while the patient listened to prerecorded sentences confirmed that the primary auditory cortex is, in fact, within Heschl's gyrus (Figure 3).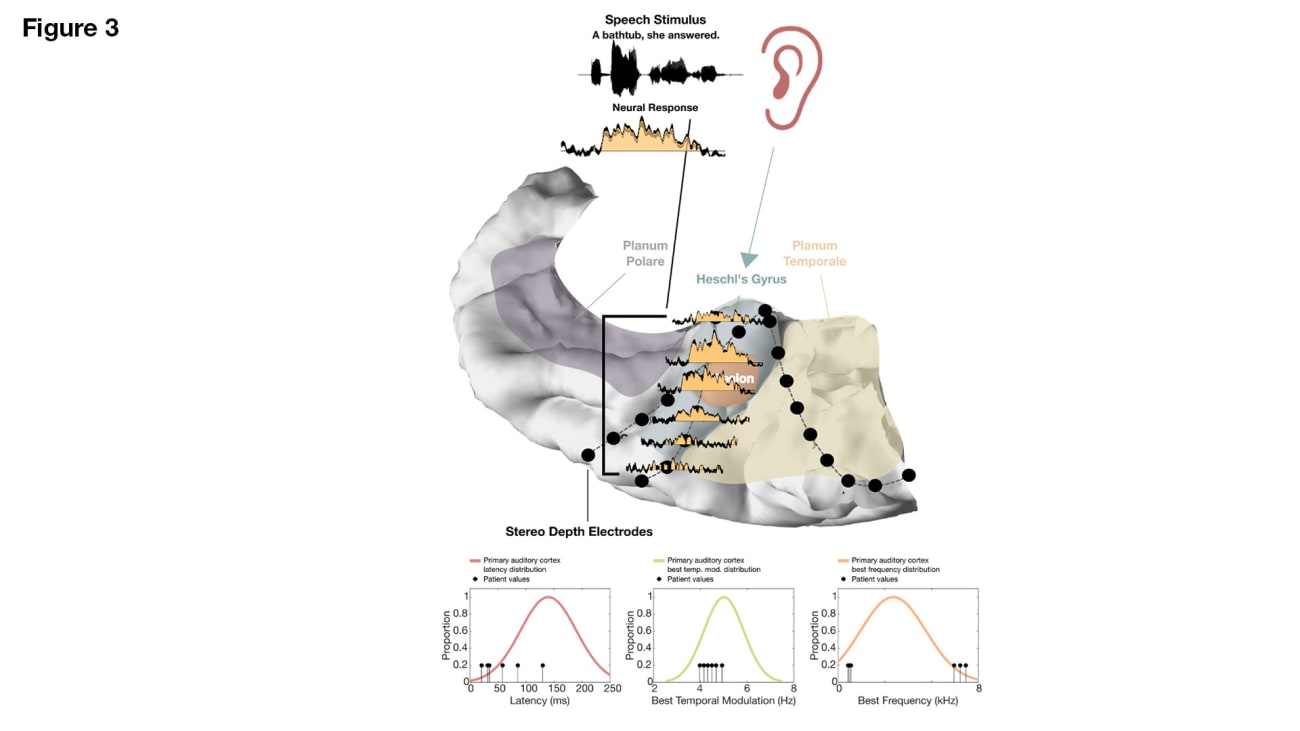 Stimulation mapping showed that sites within the desired resection margins did not disrupt speech perception or speech production, thus raising confidence in the ability to resect the dominant Heschl's gyrus without receptive or productive aphasia. Additional lateral temporal cortex mapping (not shown) confirmed the presence of Wernicke's area in the left pSTG (Figure 4).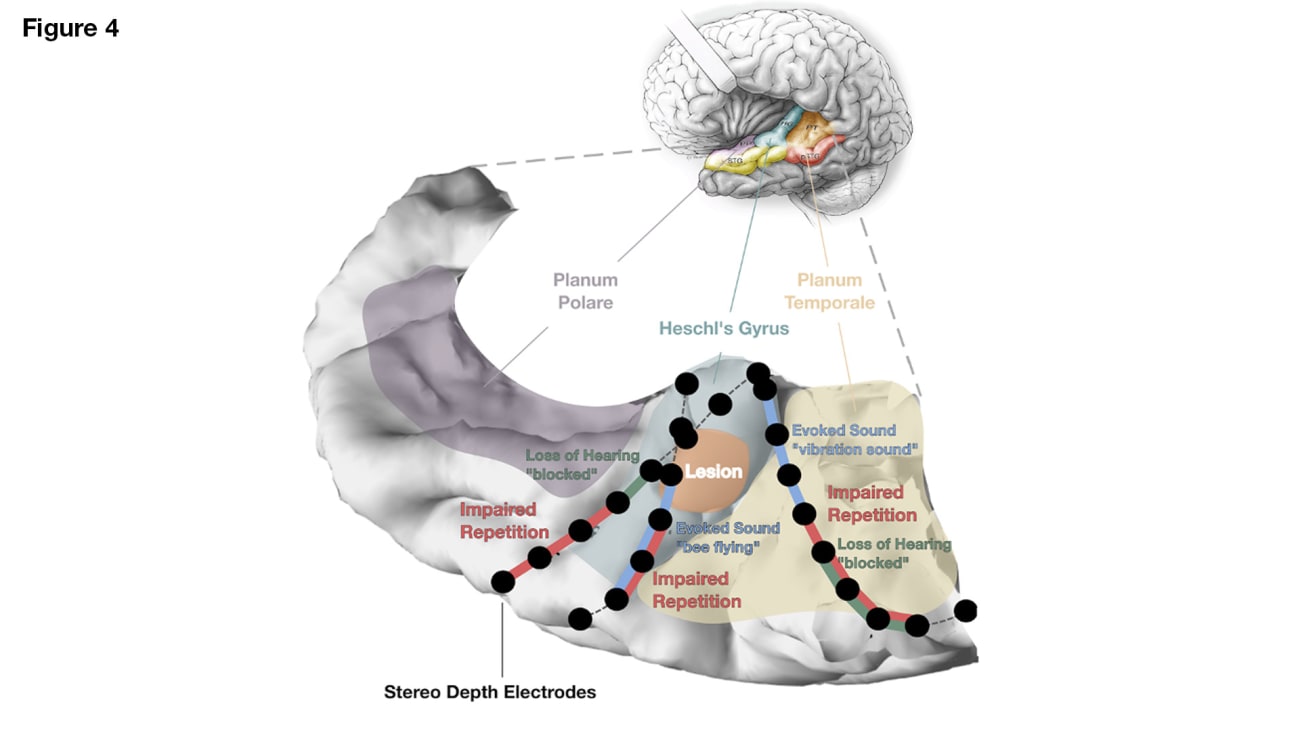 Electrocorticography-guided removal of grade 1 astrocytoma
Given the reassuring speech mapping and new speech network models, the UCSF surgical team performed an electrocorticography-guided lesionectomy through a transsylvian approach (Video 1). Postoperative imaging showed complete resection of the lesion (Figure 5).
Postoperative doppler confirming artery integrity surrounding the transsylvian surgical window.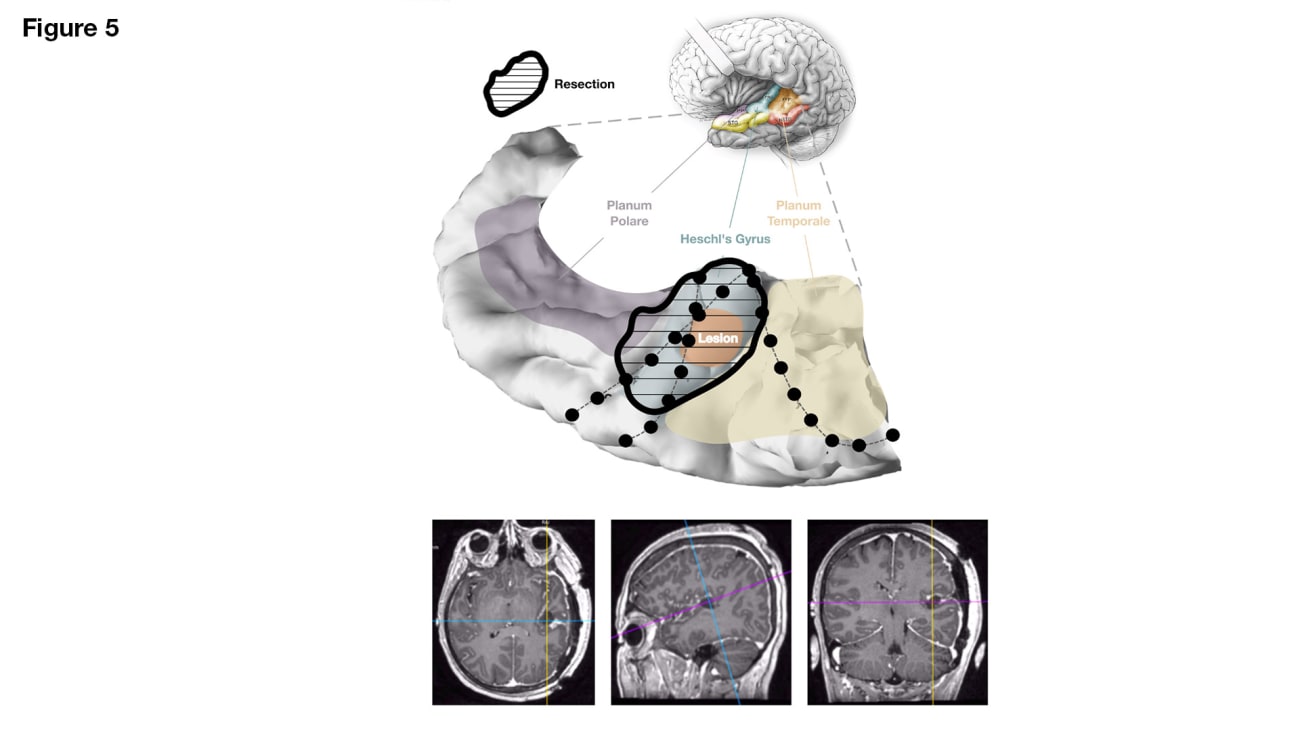 Postoperative MRI and reconstruction showing the resection margins with full removal of the lesion and Heschl's gyrus.
"The patient had an abnormal lesion located in the language comprehension area of her brain, which turned out to be a grade 1 astrocytoma," Rao said. "Our approach was to implant electrodes and map out exactly where the seizures came from. We then stimulated the electrodes in very sophisticated ways to map out the critical language function in that part of her brain to see how those areas could be delineated from one another. The surgical team was then able to operate very selectively and remove the tumor without touching any part of her brain that affects language."
Seizure-free with no language impairment
After surgery, the patient's speech production and perception were fully intact and she had no perceptible language deficits. She remains seizure-free and radiographically stable. Her continuous mild receptive aphasia resolved immediately following surgery, and she no longer relies on slow talking and lip-reading for speech comprehension. The resolution of this baseline aphasia is attributed to the cessation of recurrent daily seizures, which were causing interictal spiking and near-continuous post-ictal speech network dysfunction. 
"This was a challenging case with a rare tumor embedded in a critical area of the brain," Rao said. "The procedure was a real team effort. The patient is now seizure-free and has no language impairment, which is an amazing outcome."
Neurology and neurosurgery research and treatment take place within the UCSF Weill Institute for Neurosciences.
To learn more
Phone: (415) 353-2437 | Fax: (415) 353-2837