Conor O'Neill, MD
Anesthesiologist and pain management physician
Director, Nonoperative Spine Program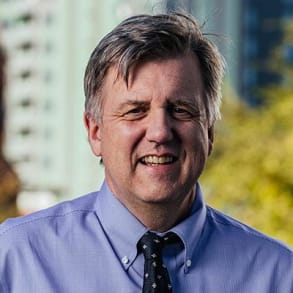 Dr. Conor O'Neill is an anesthesiologist and pain management physician who specializes in using nonsurgical techniques to care for adults with back or neck pain. Using physical medicine and rehabilitation, he works to restore and enhance function and quality of life for patients with physical impairments or disabilities.
O'Neill sees patients at the UCSF Orthopaedic Institute's Spine Center. He is also a member of the Orthopaedic Institute Integrated Spine Service, a multidisciplinary team that includes physical therapists and other providers who specialize in nonsurgical treatments for the spine. He is the director of the UCSF Nonoperative Spine Program.
O'Neill's research focuses on improving diagnosis of back and neck pain as well as developing innovative ways to treat them. He also wants to create a model of care for back and neck pain that coordinates the care of providers from various specialties.
O'Neill completed his medical degree at the Washington University School of Medicine in St. Louis. He completed a residency in internal medicine at Washington University and a residency in anesthesiology at Massachusetts General Hospital. He belongs to the San Francisco Marin Medical Society, North American Spine Society and International Society for the Study of the Lumbar Spine.
Outside of work, O'Neill enjoys spending time with family, skiing and mountain biking in Lake Tahoe.
---