Sammy Elmariah, MD, MPH, has joined UCSF as chief of the Interventional Cardiology Program and medical director of the cardiac catheterization lab. A recognized expert in structural heart disease interventions and catheter-based valve therapies, he comes to UCSF after ten years at Massachusetts General Hospital, where he was director of interventional cardiology research and an active interventional cardiologist. He also served as the inaugural director of interventional structural heart disease at the VA Boston Healthcare System and was an associate professor of medicine at Harvard Medical School.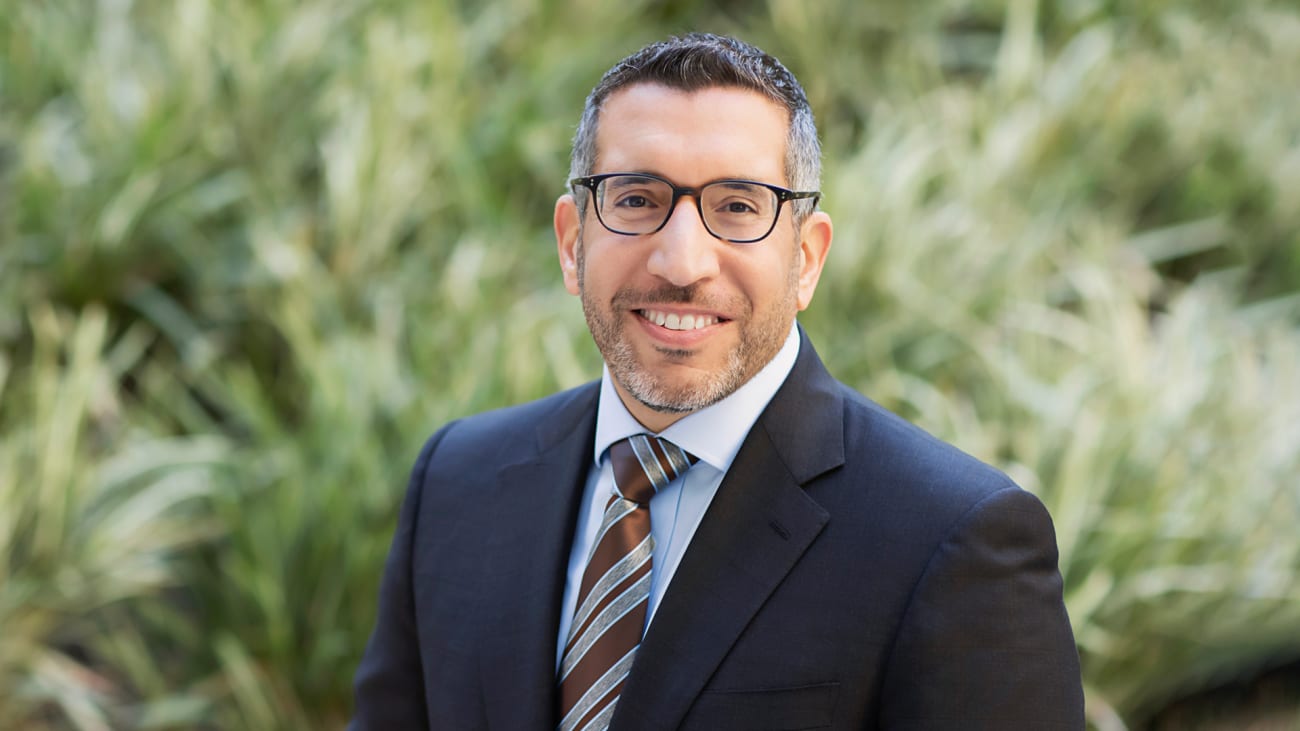 Sammy Elmariah, MD, MPH
In this interview, Elmariah discusses his new role, tricuspid and mitral valve clinical trials, and delivering personalized patient care at UCSF.
Q: Why did you decide to join UCSF?
A: UCSF is among the top institutions in the country and has a rich history in interventional cardiology and cardiac catheterization. I am truly honored to be part of such an esteemed program and eager to help build upon the many interventional innovations that have been developed at UCSF.
Q: What is your vision for the Interventional Cardiology Program?
A: The goal is simple – to excel both in providing efficient, high-quality clinical care and in the investigation of novel devices, so that we can provide our patients with the full gamut of therapeutic technologies that are available.
Q: Can you describe the clinical trials you've brought to UCSF?
A: I am excited that we will soon be launching three important pivotal trials at UCSF. Two of the three clinical trials are for transcatheter treatment of tricuspid valve regurgitation. The TRISCEND II pivotal trial is designed to investigate the safety and efficacy of a transcatheter tricuspid valve replacement device. To briefly summarize, the study device allows us to implant a new tricuspid valve through the patient's femoral vein. The second study is known as the CLASP II TR trial. In this study, the objective is not to replace but to repair the tricuspid valve. These two trials can be viewed as complementary and will hopefully allow us to treat patients with a broad array of tricuspid valve anatomies. The third study, the CLASP IIF trial, focuses on the treatment of patients with severe functional mitral regurgitation. The study is specifically investigating a novel edge-to-edge repair device that may more safely and effectively treat mitral regurgitation.
Q: What is the significance of the tricuspid valve studies?
A: Tricuspid valve disease has been minimized by the medical community. We, as physicians, have not fully recognized the importance of tricuspid valve regurgitation and even learn in medical school that patients will be fine if we were to remove the tricuspid valve! This mentality has led to patients being treated with diuretic therapy alone, and only in very rare situations are patients referred for tricuspid valve repair or replacement.
Now that we are starting to treat tricuspid valve disease more frequently using transcatheter procedures, we are realizing the medical community has been essentially ignoring the tricuspid valve. Tricuspid valve disease clearly impacts patients' quality of life and how long they live. So we are hoping that these two clinical research trials will provide an effective way to treat tricuspid valve disease more frequently and safely, and without the need for open heart surgery.
Q: How does the collaborative environment at UCSF benefit patients?
A: We have a multidisciplinary transcatheter valve program where patients undergo a comprehensive assessment from noninvasive cardiologists with expertise in valvular heart disease, heart failure specialists, cardiac surgeons and interventional cardiologists. We first ensure that the management of the patient's condition has been optimized to the extent that it can be treated with medications, and we then select patients who will get the best possible clinical outcomes from catheter-based or surgical treatments. This comprehensive and multidisciplinary approach allows us to develop the best treatment plan for individual patients. It really is personalized care!
Q: What are some of the team's broader areas of expertise?
A: Our talented interventional cardiology team offers the gamut of interventional catheter-based therapies. In addition to the clinical trials mentioned previously, Dr. Harsh Agrawal, Dr. Richard Cheng and I provide expertise in transcatheter heart valve interventions, including transcatheter aortic valve replacement (TAVR); transcatheter mitral valve repair (TEER or MitraClip); valvuloplasty; paravalvular leak closure; and investigational procedures, such as transcatheter mitral valve replacement.
Dr. Krishan Soni leads our team in managing complex coronary artery disease, including chronic total occlusions. We use a multidisciplinary approach, in partnership with our cardiac surgeons, to provide personalized care to patients with coronary artery disease.
Ours is one of the few programs in the country with an interventional heart failure program. Dr. Richard Cheng, an interventionalist and a heart failure specialist, established a "Shock Team" at UCSF to expeditiously and responsibly provide circulatory support for patients in shock, and he is leading several clinical trials evaluating devices, such as indirect mitral valve annuloplasty and interatrial septal shunt devices, to help alleviate symptoms of heart failure.
Finally, UCSF has a long history of managing adult congenital heart disease and providing transcatheter therapies for those patients with complex anatomies.
To learn more
UCSF Interventional Cardiology Program
Phone: (415) 353-2873 | Fax: (415) 353-2528