Research conducted by Javid Moslehi, MD, chief of the UCSF Cardio-Oncology and Immunology Program, has led to the discovery of a new form of myocarditis caused by immune checkpoint inhibitors (ICI). His group is now extending some of these findings to other types of myocarditis, in hopes of establishing a myocarditis center of excellence at UCSF.  
"We are applying latest-generation techniques to understand the biology of myocarditis," Moslehi said. "We developed some of these techniques for ICI-associated myocarditis but realize we can apply these to other forms of myocarditis to establish better diagnostic and therapeutic strategies." The team is investigating treatments for lymphocytic, giant cell, eosinophilic and COVID-19-associated myocarditis, as well as myocarditis linked to vaccines and other therapies.
Discovering and treating ICI-associated myocarditis
Moslehi led the study that first described the novel clinical syndrome of fulminant myocarditis caused by ICIs. He and the other researchers then defined the clinical characteristics of the condition. To further understand ICI-associated myocarditis, Moslehi collaborated with a global team to create the International ICI-Myocarditis Registry, which has collected data on more than 700 cases to date. In 2021, the international team published a review that provides standardized diagnostic and therapeutic approaches for patients with suspected ICI-associated myocarditis. The group also published a research letter describing the highly arrhythmogenic nature of the condition.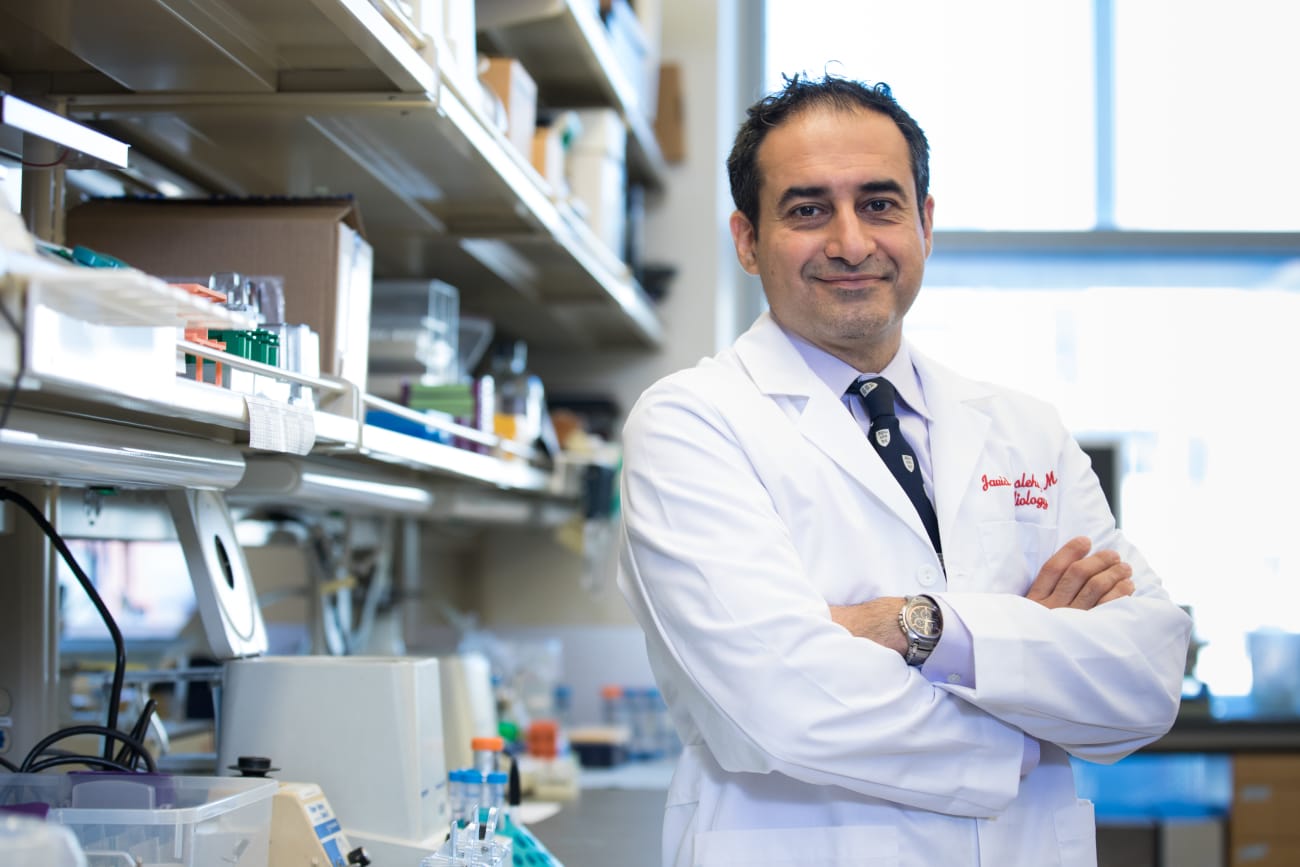 Javid Moslehi, MD, chief, UCSF Cardio-Oncology and Immunology Program
In his laboratory, Moslehi has generated mouse models of ICI-myocarditis and discovered that abatacept, a rheumatoid arthritis drug that curtails immune system activity, effectively treated myocarditis in the mice. Moslehi and his former fellow, Joe-Elie Salem, MD, PhD, now a professor at Sorbonne University in Paris, France, treated the first patient with abatacept to reduce inflammation from ICI-associated myocarditis. "We have successfully treated more than 50 patients and have learned new lessons about dosing and combination with other anti-inflammatories," Moslehi said. Salem and Moslehi recently published patient-specific abatacept treatment dosages and optimal combination with other immunosuppressive therapies.
Beyond ICI-associated myocarditis
In 2019, the American Heart Association asked Moslehi to serve as part of a group of experts to develop a scientific statement on myocarditis. "This was obviously a huge honor but also gave me a chance to realize that we as a field have much to learn about myocarditis," he said. "It turns out many of the techniques we developed in the laboratory in the last few years could be applied to other forms of myocarditis, with the hope of ultimately helping our patients." In 2021, his group used RNA sequencing to look at expressed genes in the heart and better characterize giant cell myocarditis, an unusually aggressive form of the condition. 
The professional network and expertise that Moslehi and his team built prior to 2020 put them in a unique position to understand COVID-19-related inflammatory heart disease. With a team in Milan, Italy, and Wuhan, China, Moslehi showed that cardiac injury among hospitalized COVID-19 patients closely resembles the type of injury seen in cancer patients treated with cellular therapies.
These discoveries became invaluable when Moslehi was recruited to UCSF in the fall of 2021. "I realized that with the lessons we had learned from cardio-oncology, we had the chance to really help patients with other forms of inflammatory heart disease, including myocarditis," Moslehi said.  The group is now studying different types of myocarditis, including cases associated with COVID-19, and focusing on the interactions between the cardiovascular and immune systems. "We are fundamentally interested in understanding the intersection between inflammation and heart disease," he added.
The new UCSF Cardio-Oncology and Immunology Program has made myocarditis a centerpiece of its patient care and research. Moslehi is joined by Mandar A. Aras, MD, PhD, and Alan H. Baik, MD, both UCSF-trained cardiologists and physician-scientists. "Our main focus remains our patients," Moslehi said. Given the breakthroughs and the seamless transition from lab to clinic, he is excited about how the team can potentially advance the field of myocarditis. "In 2022, we have few – if any – treatments for garden-variety myocarditis. I feel that we can really make an impact for patients."
To learn more
Cardio-Oncology & Immunology Program
Phone: (415) 353-3110 | Fax: (415) 353-9810