In April 2015, gastroenterologist Najwa El-Nachef, MD, was the first clinician at UC San Francisco to perform fecal microbiota transplant (FMT) to successfully treat a patient with Clostridium difficile (C. diff) infection, establishing UCSF's FMT program. She is now researching the role of FMT in treating inflammatory bowel disease (IBD).
"I'm interested in manipulating the human microbiome to modulate inflammation in patients with IBD," El-Nachef said.

Dr. Najwa El-Nachef is a gastroenterologist with special interests in gut microbiome.
Clinical trial: FMT for ulcerative colitis (UC)
"We've conducted several clinical trials using FMT for IBD and have homed in on UC because it's the subset of IBD that has the most promise for response to FMT, based on the published literature as well as our experience here at UCSF," El-Nachef said. "In our most recent work, we pursued a study to better understand the impact of pretreatment with antibiotics and maintenance methods on engraftment of FMT in patients with UC."
In El-Nachef's clinical trial, initial FMT treatment for all subjects was administered via colonoscopy. Half the participants were pretreated with antibiotics, and this group was more likely to achieve UC remission: Six of 11 subjects who received antibiotics went into remission, while only two of the 11 who were not pretreated with antibiotics achieved remission.
After FMT, the gut microbiomes of participants who received antibiotics were more like the donor microbiomes than were those of participants who weren't pretreated. "This indicates that pretreatment with antibiotics may augment engraftment of FMT," El-Nachef said. The study also found that capsule-delivered FMT maintenance, which is less burdensome for patients, was as effective and well-tolerated as enema maintenance. 
"I am grateful to have the opportunity to provide patients with a novel therapy that's not widely available while we work to understand how changing the microbiome may help some patients with IBD," El-Nachef said.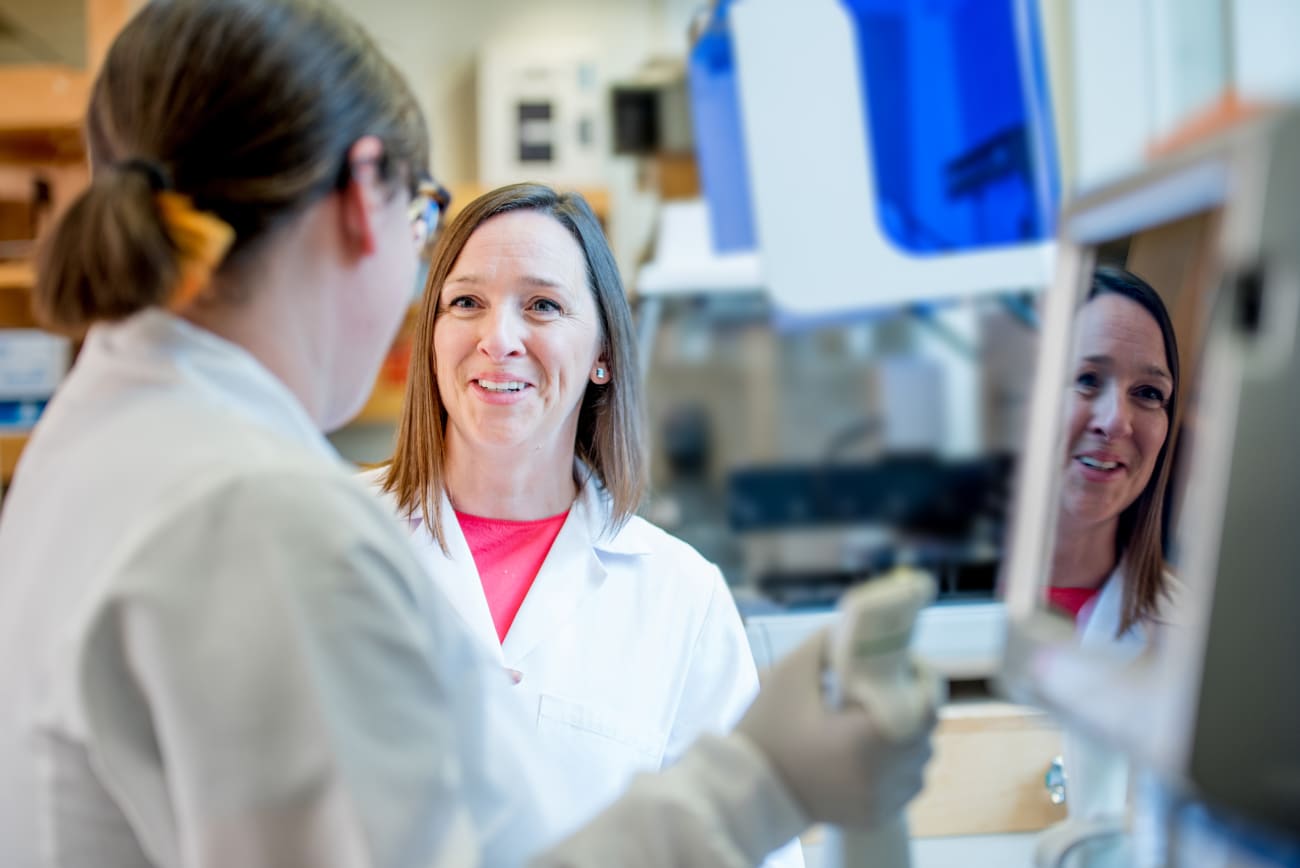 Susan Lynch, PhD, Director, Colitis and Crohn's Disease Microbiome Research Core
Collaborative translational research
Susan Lynch, PhD, is director of the Benioff Center for Microbiome Medicine at UCSF, where researchers are working to accelerate understanding of how microbes promote health and prevent disease and to leverage this information to develop novel, effective treatments in the shortest possible time. She is also the director of the colitis and Crohn's disease microbiome research core and associate director of the microbiome in IBD research program at UCSF. Lynch is a lead author of a recent article in Digestive Diseases and Sciences that describes how therapies that target the gut microbiome, including dietary and live microbial interventions, may offer new ways to manage or reverse microscopic colitis.
Lynch works closely with El-Nachef on FMT clinical trials for patients with IBD. "Dr. El-Nachef is my clinical partner in translational research," Lynch said. "We're leveraging FMT clinical trials to understand the mechanism by which microbes modulate immune function in patients who respond to the treatment. The goal is to generate a refined group of quality-controlled microbes to use as therapeutics to prevent mucosal inflammation in patients with IBD."
"Collaborating with Dr. Lynch and her team provides much more depth to this work," El-Nachef said. "I look forward to running more clinical trials and working with Dr. Lynch to understand microbial and metabolic changes and how they correlate with clinical outcomes."
The research is facilitated through the Benioff Center for Microbiome Medicine. "We have built the foundational technological platforms needed to do this kind of high-resolution microbiome research," Lynch said. "We partner with the Bakar ImmunoX Initiative at UCSF to bring to bear the full suite of immunological profiling tools and expertise.
"We're looking at the entire ecosystem of microbial and immune cell types that interact on the molecular level across temporal and spatial gradients in the human body," Lynch continued. "We're examining how the food people eat influences the microbes in the gut and how what's produced by those microbes influences immune response throughout the body. We're also looking at how environmental exposures impact the human microbiome. This is a watershed moment, for both human biology and human health."
To learn more 
UCSF Colitis and Crohn's Disease Center
(415) 353-7921 | Fax: (415) 502-2249