Adoption of the Ovarian-Adnexal Reporting and Data System (O-RADS) by UCSF radiologists, gynecologists and gynecologic oncologists has reduced ambiguity in ultrasound (US) and MRI reporting of ovarian and adnexal lesions, with enormous potential to improve patient outcomes. Patients can be triaged to benign gynecology versus gynecologic oncology care, expediting their access to the most appropriate clinical teams and, in some cases, avoiding needless surgeries.
"O-RADS creates a standardized vocabulary for adnexal masses, establishes a risk of malignancy based on imaging features and provides management guidelines," said UCSF radiologist Lori Strachowski, MD, a member of the American College of Radiology (ACR) committee that developed the O-RADS US consensus guideline. 
US and MRI standardized lexicon and risk-assessment categories
US is the primary imaging modality for assessing adnexal lesions, while MRI scans further characterize lesions seen on US. O-RADS establishes a standard for describing the imaging characteristics of ovarian masses and provides six categories for risk stratification, ranging from incomplete evaluation (O-RADS 0) to high risk of malignancy (O-RADS 5). Each category is associated with a percentage risk of malignancy and recommendations for follow-up and management.
O-RADS US and MRI smartphone apps and web-based calculators can deliver O-RADS scores and management recommendations in less than 30 seconds.
Case studies
At UCSF, O-RADS adoption has enhanced the partnership between the radiology team and the obstetrics and gynecology team. The following case examples highlight how O-RADS has resulted in precision treatment and improved outcomes for patients with adnexal masses.
Patient's symptoms alleviated after removal of borderline serous cystadenoma
A 71-year-old woman presented with pelvic fullness. US revealed a right adnexal 8.3-centimeter multilocular cyst with an irregular inner wall and without a solid component. Strachowski categorized the lesion as O-RADS US 4, an intermediate risk. The patient had a gynecologic-oncologic consultation, per the O-RADS US recommendation for this category. The lesion was removed and diagnosed as a borderline serous cystadenoma, and the patient's symptoms subsided.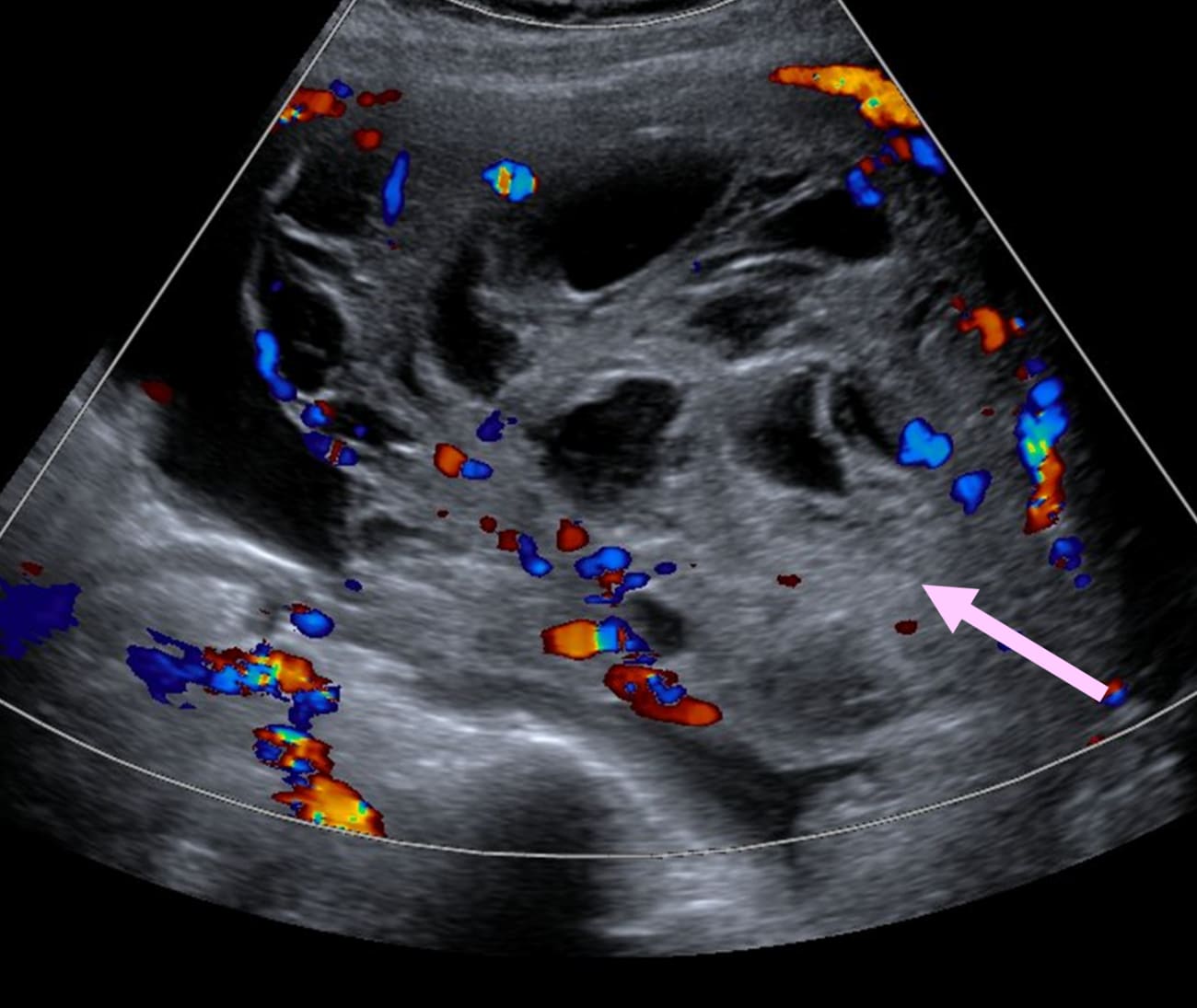 38-year-old woman with a 9 cm multilocular cystic lesion with solid component (arrow) in the right ovary discovered on recommended follow-up US for a left endometrioma. The lesion has moderate vascularity making it an O-RADS 5, high risk lesion (> 50 % likelihood of malignancy). Surgical pathology revealed an endometrioid carcinoma.
Follow-up leads to detection and removal of an endometrioid carcinoma
A 38-year-old woman presented with chronic pelvic pain. US showed a left ovarian 4-centimeter endometrioma, categorized as O-RADS US 2. Annual US follow-up was recommended for the patient, per the O-RADS US management guidelines. When the patient returned 16 months later, the endometrioma appeared stable, but a 9-centimeter multilocular cyst with solid component was seen in the right ovary and characterized as high risk, O-RADS US 5. The patient saw a UCSF gynecologic oncologist, and the lesion was removed and diagnosed as an endometrioid carcinoma.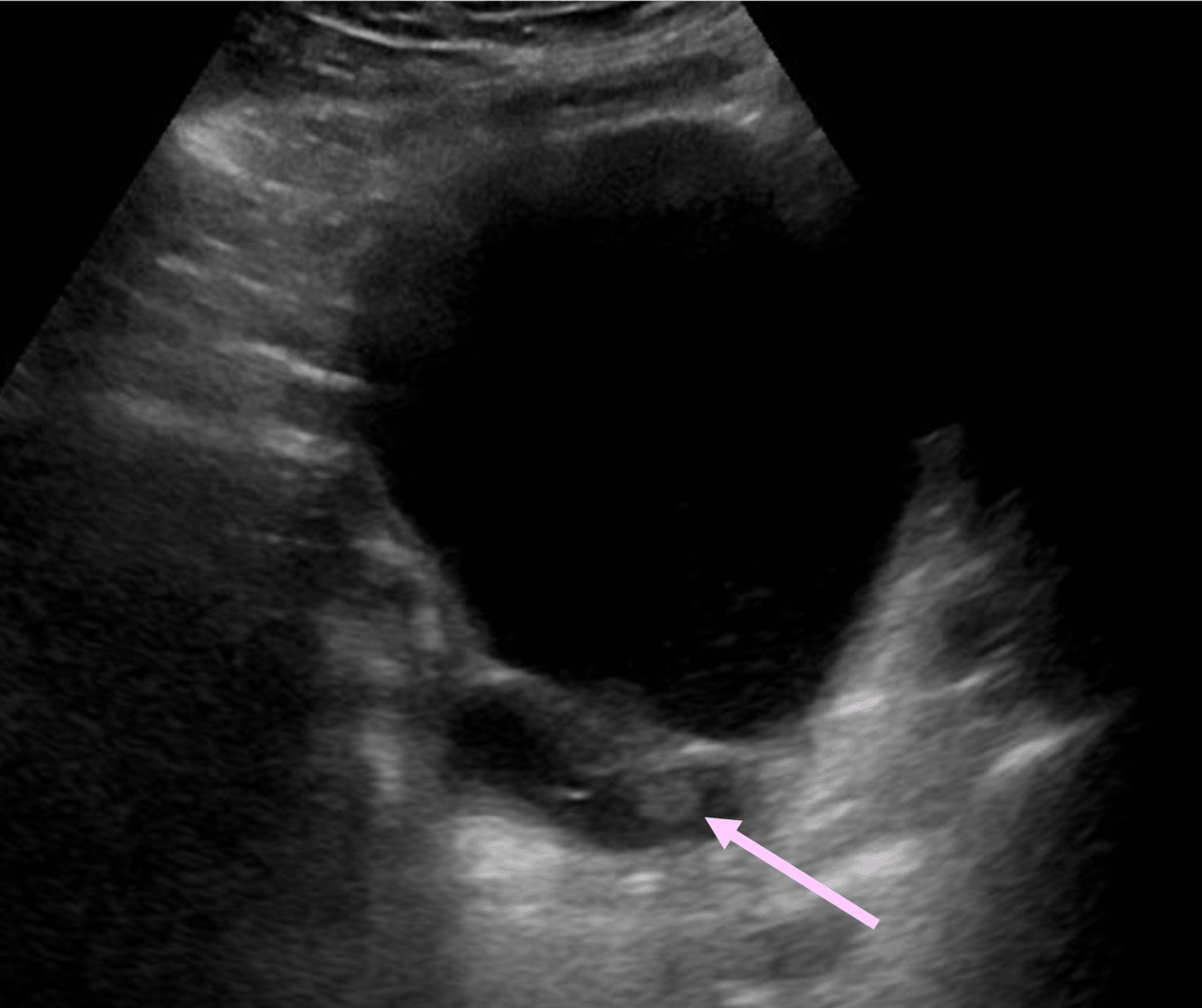 53-year-old woman with concern for endometriosis. US shows a multilocular cyst with a solid component and MRI was recommended for further evaluation. On US evaluation, lesion was risk stratified into an O-RADS 4 category, which carries a risk of cancer ranging from 10-<50%.
O-RADS category downgraded after MRI
US for a 53-year-old woman with endometriosis symptoms showed a multilocular cystic lesion with a solid component, categorized as O-RADS US 4. She was referred for MRI and the nodule appeared dark on T2 and diffusion images. "When we see this, we have an 'aha' moment," said UCSF radiologist and MRI specialist Priyanka Jha, MBBS, a member of the ACR O-RADS MRI committee. "It is indicative of benign fibrous tissue." The lesion was downgraded to O-RADS MRI 2, highlighting the ability of MRI to exclude malignancy, especially in lesions that remain indeterminate even after expert US examination.
MRI identifies borderline serous tumor
A 58-year-old woman presented with postmenopausal bleeding. A 2.5-centimeter unilocular cyst with border irregularity and a solid component was detected on US. Dynamic MRI imaging revealed an intermediate adnexal mass, categorized as O-RADS MRI 4, which was identified at surgery as a borderline serous tumor. "MRI can provide a more nuanced interpretation of solid and solid-appearing tissue," Jha said.
On MR imaging, solid component of the lesion showed dark signal on both T2 and diffusion weighted imaging, which is most suggestive of fibrous tissue. This finding is very reassuring and on MR this lesion is risk stratified to an O-RADS 2 category, which is associated with <0.5% risk of malignancy. Hence, MRI was very useful for appropriate patient management and counselling.
Improved diagnosis and management
By reducing ambiguity in radiology reports, O-RADS provides greater probability of a correct diagnosis, appropriate patient management and positive patient outcomes. UCSF radiologists, in collaboration with their colleagues in gynecology and gynecologic oncology, have incorporated O-RADS into their practice and encourage others to do the same. "We can provide such wonderful care when we work together," Strachowski said.
UCSF Medical Center is ranked as the best hospital in Northern California for cancer care, according to U.S. News & World Report's 2021-2022 Best Hospitals survey.
Cancer research and treatment take place within the UCSF Helen Diller Family Comprehensive Cancer Center.
To learn more
UCSF Obstetrics and Gynecology
UCSF Gynecologic Oncology Center
Phone: (415) 353-9600 | Fax: (415) 353-7657