In a new study, UCSF researchers found that patients participating in either virtual or hybrid cardiac rehabilitation (CR) programs showed similar improvements in functional capacity to those of in-person CR program participants. Hybrid programs combine in-person and virtual delivery.
"Virtual and hybrid CR programs have the potential to expand availability without compromising outcomes," said UCSF cardiologist Alexis Beatty, MD, MAS, who led the study.
Proven methods for effective virtual CR program delivery
When the COVID-19 pandemic started, the UCSF Cardiac Rehabilitation and Wellness Center team began enabling patients to limit their in-person CR visits and participate in virtual and, eventually, hybrid programs. These effective new CR delivery methods remain in place and have the same components as the in-person version, beginning with an individualized patient assessment and treatment plan.
"It's also important to conduct a needs assessment with the patient at the start of the program to identify any barriers to using technology or challenges in their environment that might make exercise difficult," Beatty said. "Most of the time, we can help the patient troubleshoot issues."
Most patients have four weeks of twice-weekly in-person CR sessions, followed by eight weeks of weekly synchronous exercise and motivational counseling sessions via video. Patients supplement their synchronous exercise sessions with asynchronous exercise plus group education and mental health video visits. Participants also meet virtually with a dietitian and receive medication counseling from a pharmacist. Some patients use mobile apps to log their blood pressure, weight and exercise each day.
"Our virtual and hybrid programs are very much the same as traditional cardiac rehabilitation, with a focus on exercise training and health behaviors," Beatty said.
Similar improvements for patients in all three programs
For the study, UCSF patients enrolled in CR programs between October 2019 and May 2021 were grouped into virtual, hybrid and in-person programs. At enrollment and completion of the CR programs, the UCSF team assessed patients' blood pressure, depression, anxiety, waist-to-hip ratio, cardiac self-efficacy, and performance on a six-minute walk test.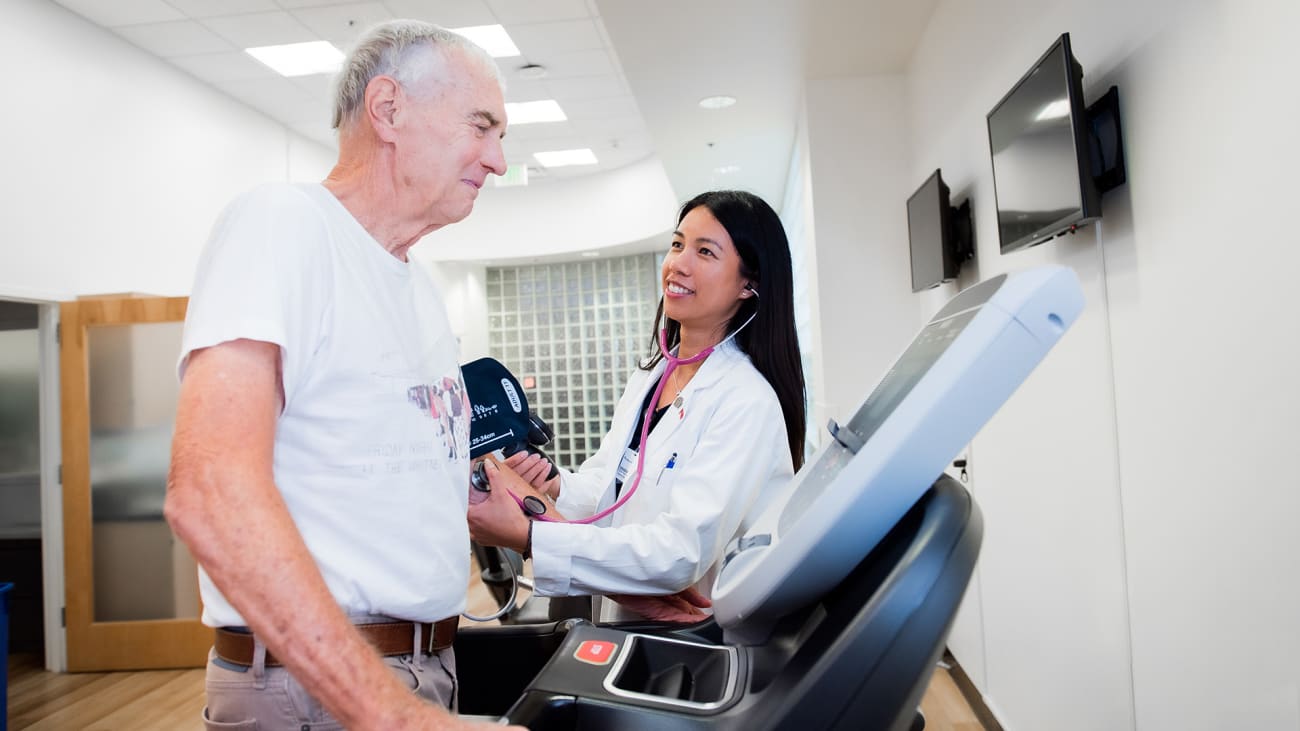 Compared with the in-person group, hybrid and virtual patients experienced similar improvements in blood pressure control, anxiety symptoms and the six-minute walk test. Virtual patients' depression symptoms improved less than those of patients in the other groups. No statistically significant changes in waist-to-hip ratio or cardiac self-efficacy were observed.
The study notes that CR reduces hospitalizations and mortality and improves functional status and quality of life for patients with cardiovascular disease, yet nationwide only 24% of eligible patients participate in CR. One reason for the low participation rate is lack of access. "Many regions in the country are cardiac rehab deserts," Beatty said. "There aren't enough centers to meet the needs of patients." Results of the UCSF study show that virtual and hybrid programs can broaden access to CR and deliver excellent outcomes.
Increasing patient participation in CR programs
Million Hearts is a national initiative to prevent 1 million heart attacks and strokes within five years. One of the initiative's priorities is achieving a target of 70% participation in CR by eligible patients.
Beatty was a member of the Million Hearts think tank focused on accelerating new CR care models to increase patient enrollment. She also took part in a review of the literature on designing and implementing hybrid CR programs, which found that CR must expand beyond in-person programs to meet the Million Hearts goal.
"Getting patients referred to and attending cardiac rehabilitation is the biggest opportunity for improvement for cardiovascular disease care," Beatty said. "At UCSF, we've implemented automatic referrals to CR for all eligible patients."
UCSF wins CR Program of the Year Award
UCSF was named CR Program of the Year by the California Society for Cardiac Rehabilitation. "Our program is very patient-centered. The team is committed to assessing individual patient needs and working with patients to meet those needs," Beatty said.
During the pandemic, virtual and hybrid CR programs were reimbursed by Medicare and most private insurers. Beatty is hopeful this coverage will continue. "Our study provides the data showing that virtual and hybrid cardiac rehabilitation programs achieve similar clinical outcomes as in-person programs," she said. "Expansion of these programs can help patients stay out of the hospital and live longer."
To learn more
UCSF Cardiac Rehabilitation and Wellness Center
Phone: (415) 514-9269 | Fax: (415) 514-9270