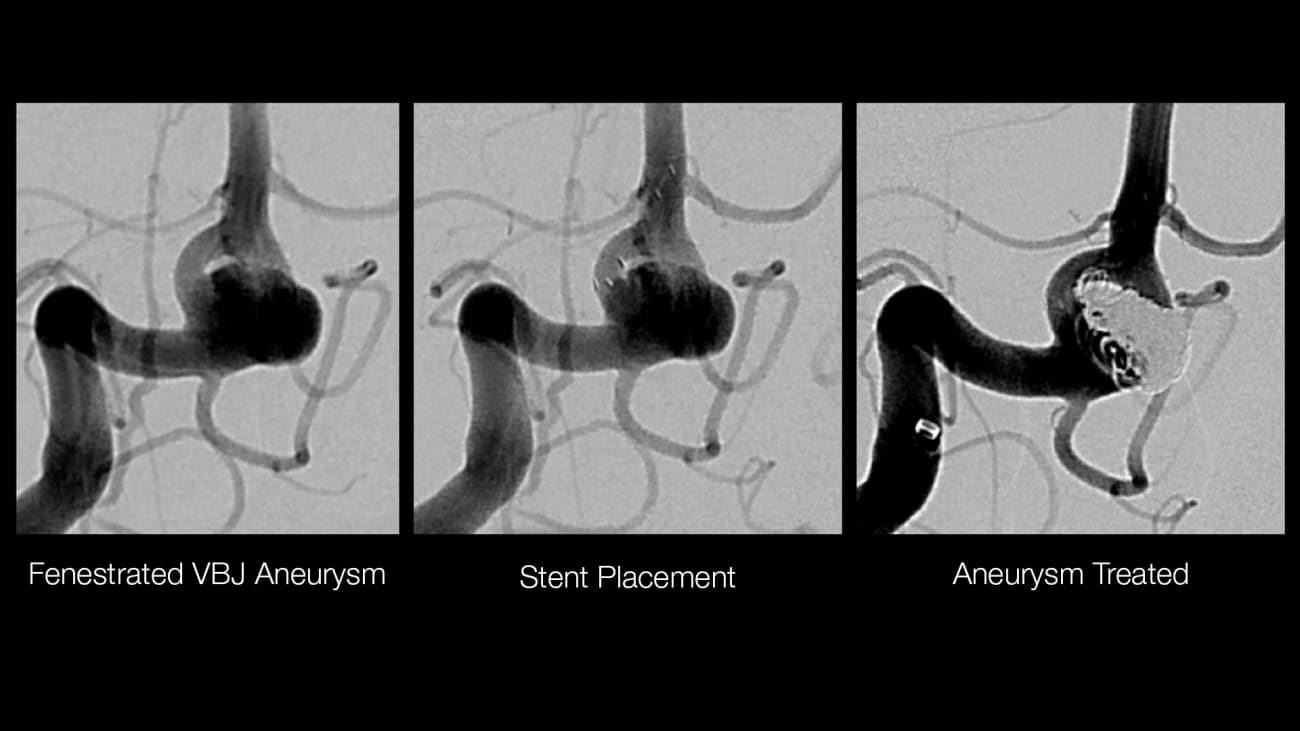 UCSF neurosurgeons have extensive experience using the radial artery as an access site for neurointerventional procedures. "Radial artery access results in less blood loss, fewer complications and shorter length of stay, as opposed to femoral access," said UCSF's Adib A. Abla, MD, vascular and endovascular neurosurgeon and chief of vascular neurosurgery. "Patients can get up and walk two hours after the procedure and be discharged the next day."
Case study: treating a complex aneurysm via radial artery access
A 78-year-old woman presented with an unruptured, dysplastic, vertebrobasilar junction fenestration aneurysm that had been incidentally discovered. Her medical history included an intracanalicular vestibular schwannoma, mitral regurgitation following mitral valve replacement, hyperlipidemia, hypercholesterolemia and osteoporosis. She was on denosumab and pantoprazole.
Evaluating treatment options
The UCSF team determined that the patient's risk of future aneurysm rupture was high. They identified the best treatment option as an endovascular, stent-assisted coil embolization in two stages via radial artery access.
This approach would both treat the aneurysm and preserve the perforating arteries. The team concluded that a coil alone would risk coil compaction and herniation into the parent vessel and fenestration, while a flow diversion alone would risk perforator occlusion.
Stage 1: stent deployment
Prior to surgery, the patient was on aspirin monotherapy. The UCSF team successfully deployed a horseshoe stent configuration through the right radial artery. The patient was given IV Integrilin intraoperatively, followed by bridge therapy to Plavix. She was discharged the next day at neurologic baseline.
Stage 2: aneurysm coiling
To allow for endothelialization of the stent, the next stage of the procedure, aneurysm coiling, was conducted three months later. The team again used right radial artery access. A post-coiling angiogram showed excellent aneurysm obliteration with patency of the perforators and major branches. The patient remained on Plavix and was discharged the next day at neurologic baseline.
Long-term clinical outcome
The patient has remained in excellent neurologic condition and is awaiting a one-year post-operative angiogram to evaluate for any coil compaction and recurrent aneurysm filling.
This case demonstrates that radial artery access can be safely used to treat complex vertebrobasilar junction fenestration aneurysms. Abla and a team of UCSF neurosurgeons and neurointerventional radiologists have reviewed and published anatomical and safety considerations relevant to transradial access.
"Radial artery access should be a first-line approach for neuroendovascular procedures," Abla said.
UCSF Medical Center is No. 1 in the nation for neurology and neurosurgery, according to U.S. News & World Report's 2021-2022 Best Hospitals survey.
Neurology and neurosurgery research and treatment take place within the UCSF Weill Institute for Neurosciences.

To learn more
UCSF Cerebrovascular Neurosurgery Clinic
Phone: (415) 353-7500 | Fax: (415) 353-2889